Subjects We Offer:
Key stages 1, 2 and 3 English and Maths
11plus Grammar School Entrance Exams
GCSE English Language/Literature & Maths
A-level English Language/Literature, Maths & Psychology
Services We Offer:
Small group sessions
1-1 Online session for GCSE and A-Level students
Bespoke programmes of learning tailored to student's ability level and learning styles
Comprehensive examination preparation
Mock examinations
Weekly homework
Active teaching input in line with National Curriculum, which ensures that your child learns the same methods as being taught at school.
One To One Approach: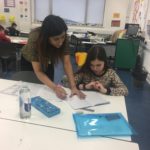 Low teacher to pupil ratio provides ample opportunities for one to one support of each pupil.
Mirrors the structure of a school lesson but progress is amplified as increased material covered.
Groups led by qualified teachers.
All of our teaching programmes are designed in line with the National Curriculum or student's specific exam boards.
Approaches and programmes tailored to each student's needs and their personalised goals.
Fantastic teaching environment, fully equipped school classroom.
Raising achievement using a holistic approach, educational teaching input is combined with approaches, which raise self-esteem and confidence.
This results in maximum progress achieved and maintained by students. As they now have the skills and knowledge that they can take with them wherever they go.